Have you seen Bearden's art?.
Did you notice the layers and materials used?

The technique that Bearden uses is called collage. He also uses photo montage.

However in 1963-64 collage was the technique he used the most.

col·lage
Noun:

a : an artistic composition made of various materials (as paper, cloth, or wood) glued on a surface

b : a creative work that resembles such a composition in incorporating various materials or elements.

Bearden's process:

"I first put down several rectangles of color some of which…are in the same ratio as…the rectangle that I'm working on.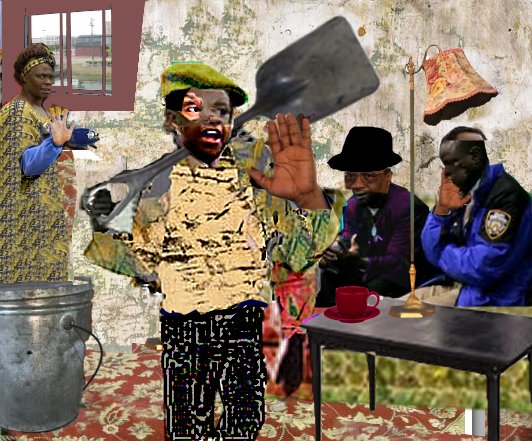 This sketch is an example of a collage (incorporating some of the style elements of a Romare Bearden) by a Splash artist.

...[Then] I paste a photograph, say, anything just to get me started, maybe a head, at certain—a few—places in the canvas. I try to move up and across the canvas, always moving up and across. If I tear anything, I tear it up and across. What I am trying to do then is establish a vertical and horizontal control of the canvas. I don't like to get into too many slanting movements...." (Bearden)

The above work is an example of a collage in the style of Romare Bearden and is a computer generated collage.

It incorporates various elements juxtaposed and layered - the elements being pieces of jpeg images and computer generated patterns, fragments and digital paintbrush application.

Though there are no pieces of paper physically glued on or paint physically applied - it nevertheless is still a collage.