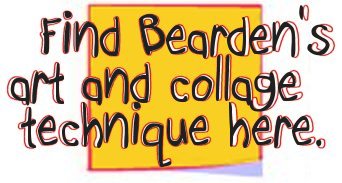 Romare Howard Bearden born September 2, 1911 in Charlotte, North Carolina to Bessye and Howard Bearden was an only child.

The Beardens moved from NC to NY...
He and his family left NC with its crippling prejudice and Jim Crow laws and moved to New York City when he was a around 3 years old.

At first they moved from house to house...
It was still a difficult climate for African Americans and due to unsteady employment and unsatisfactory housing, the family had been forced to move in and out of New York numerous times before managing to settle in Harlem.

Being college educated, they finally found good jobs...
Both college educated, they both secured professional employment, his father as an inspector with the city health department, and his mother in working for the New York City School Board .

1920s Harlem...
This afforded his parents time to 'breathe' in the new creative environment of 1920s Harlem. Bessye had been elected President of the Negro Women's Democratic Association and also served as the New York correspondent for the Chicago Defender, a regional black newspaper.
An exciting time for a young child...

Their involvement in social activism turned the Bearden home into a magnet for numerous major figures of the Harlem Renaissance - a very stimulating environment for the young Romare with plenty of fertile ground for intellectual and creative growth. But perhaps not so much stability as one would wish. It was an ever shifting cultural socio-political environment.

To secure a better life African Americans left the South in droves...
African Americans were migrating from the South in ever increasing numbers. The community was in a state of flux with new neighbors from a diversity of backgrounds and situations arriving daily.

The Beardens sent their teenaged son to live with his granny...
Concern that their now 13-14 year old son be part of a stable community and live in an environment wherein he could feel rooted prompted Bessye and Howard to send Romare to live with his grandmother who ran a boarding house for the steel mill workers in Pittsburgh, Pennsylvania.

Romare put his childhood memories into his art...
Romare spent 4 years there and graduated from the Peabody High School in1929. It is commonly quoted that: "Many of his earliest memories found their way into his art"