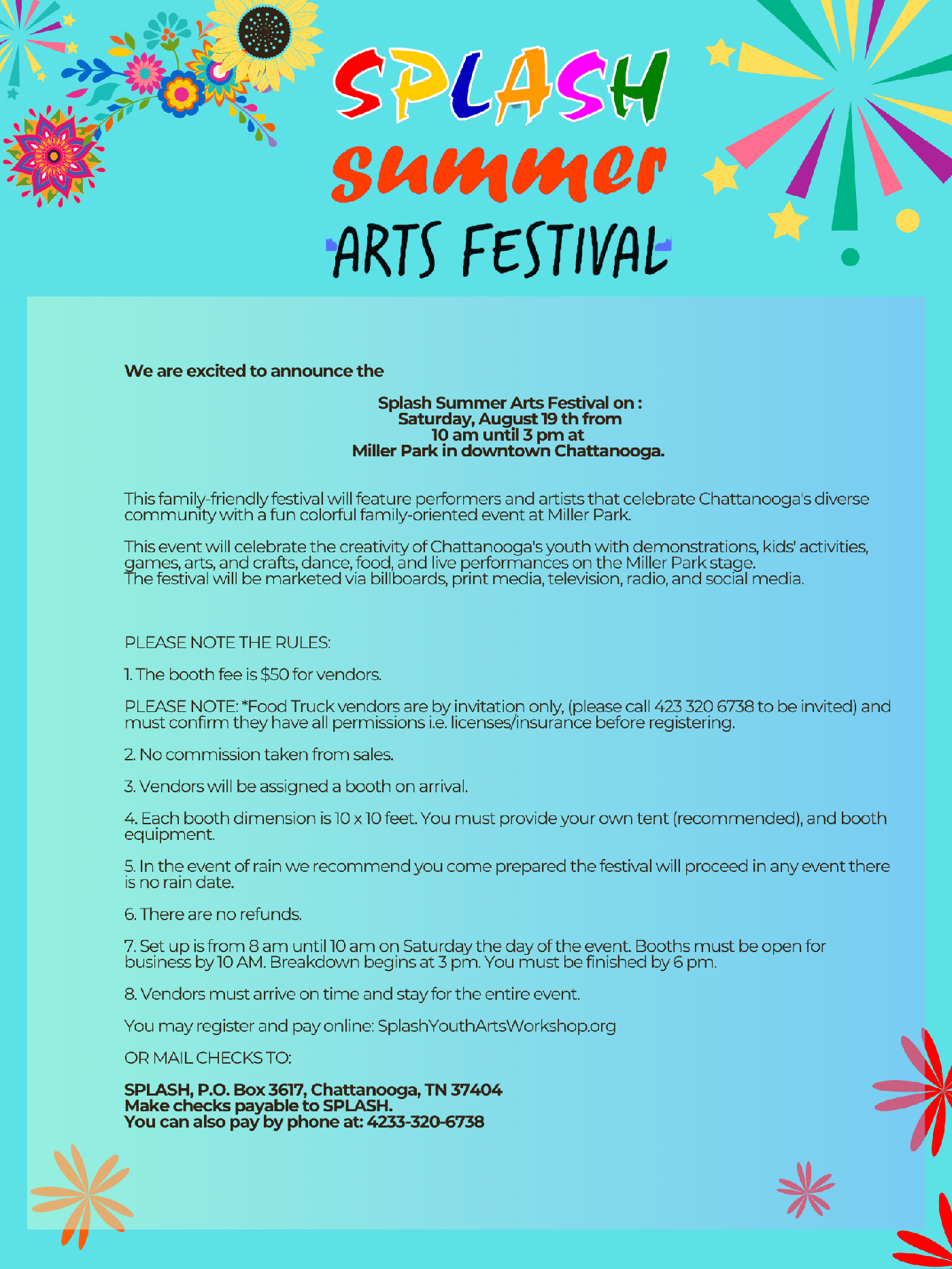 $50 per booth - $100 per *food truck
Saturday August 19th,
at 10-3pm
Miller Park, 928 Market Street,
Chattanooga, TN 37402
SPLASH (423) 320 6738
SPLASH Summer Arts Festival is a celebration of the arts. It is a fun, family friendly, community arts experience for everyone. There will be a diversity of light live music throughout the day from a variety of solo acts and other vocal groups, there will be food, balloons/face-painter and a group art project for festival goers.
All vendors
must register and pay in advance. There are no commission fees on your sales. The festival will happen rain or shine!!! There will be no refunds. There are no rain days!!!
Deadline for Registration is August 6th.
*Food Truck vendors are by invitation only and must confirm they have all permissions i.e. licenses/insurance before registering. Call us: 423 320 6738 .
The setup fee for booth holders is $50. All spaces will be assigned on a first come first serve basis. All spaces are 10 x 10 ft.
Artists may purchase two spaces side by side if needed - at $100. Tents not to exceed 10 X 10 ft. Tents should be weighted to avoid wind damage.
Setup
available
Saturday,
August 19th
8am till 10 am.
Festival opens at 10am. Festival closes at 3pm. Cleanup is until 5pm. Everyone is responsible for making sure their space is completely free of debris.
Thank you
to all participating artists, crafters, food vendors and non-profits.
Or write all required info and
Mail with check to SPLASH:
SPLASH P.O. Box 3617,
Chattanooga TN 37404
info@splashyouthartsworkshop.org